How do Buttons make "You" feel?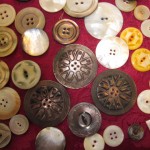 Buttons.  Buttons.  Buttons.  For some, that word just means you can keep your pants up or stop your shirt from gaping open, but to a select group of people, the word – button — means so much more.  It makes them feel good, causes goose bumps on their forearms and a giddy feeling in the pit of their stomach.  They revel in the pleasure buttons give to them.  Well, at least that happens for my friend, Jennie. 
     A few days ago, Jennie shared her button collection with me.  I knew it was big, but oh MY gosh!  In my previous posting, I shared a photograph where she displayed her "good" buttons on the kitchen table.
     She laid the buttons in groupings for me to admire.  Mother of Pearl, metal, jet (black glass), Bakelite (an early and creative form of plastic buttons), military/fire department/and police buttons, ceramic, and many more.  I had to laugh as she pointed to each set of buttons in turn and said, "These are my FAVORITE buttons."  She just loves them all.
     I'll share a few more photos as we go and a bit of the history of buttons over the next few "button blog blurbs".
     Did you know that Muscatine, Iowa is considered to be the Button Capital of the World?  A button maker from Europe arrived in Muscatine in 1887 and by 1905, that small town in Iowa was out-producing many established button businesses in Europe, making over 1.5 billion buttons a year.  Just thought I'd share that little tidbit.  I didn't know it either, till Jennie shared her love of buttons.
     (My personal favorites are the carved mother of pearl buttons.  I'll be sharing more photos of those in later posts) 
Please leave your button stories here.  I never hear enough about buttons.  I LOVe buttons too.
One Comment